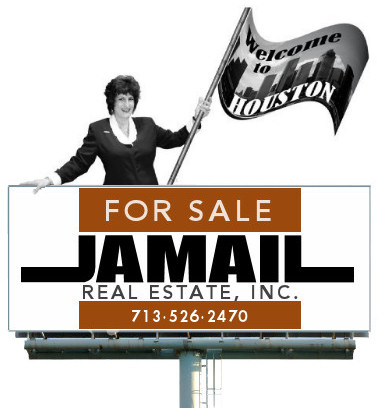 Jamail Real Estate, Inc. was established in 1979, and incorporated in 1981. Over the years there have been satellite offices throughout West Houston, especially at new developments. The main office is currently at 1920 N. Memorial Way, in Houston, Texas, on the edge of downtown Houston and marketing properties in and outside of the loop.
Janice Jamail-Garvis, a native Houstonian, is the CEO and Broker of JAMAIL REAL ESTATE, INC. She has been licensed by the Texas Real Estate Commission for over 40 years and has been a member of the National Association of Realtors, The Texas Association of Realtors and The Houston Association of Realtors among other professional organizations over that period of time where she served on various leadership positions.

She has served on a variety of organizations, committees, task forces, and has organized and participated in numerous political and charitable fundraisers. Because of her dedication to the preservation of private property rights and the real estate industry, and her advocacy of free enterprise, she has become extremely involved in the political process in this country that instigated invitations from Realtor State Associations across the country to address their membership.
Her expertise is the residential and commercial real estate brokerage field.
Dawn Smith-Chapman
If you are looking for a broker associate with professionalism, friendly & positive personality you found her!
She has been in real estate for over a decade.
She has many certifications and can help with many different types of transactions.
She encompasses new passion when it comes to helping clients sell or buy.

Her mission is to take the stress and concerns of negotiating away from her clients to ensure a pleasant transaction.




Contact Information:

Telephone: 713-526-2470
Fax: 713-526-2451
Address: 1920 N. Memorial Way, Suite 203
Houston, TX 77007
Email:
Janice Jamail-Garvis:
Janice@JamailRealEstate.com
Dawn Smith-Chapman:
Dawn@JamailRealEstate.com